Host Kevin Neff and crew take a behind the scenes look at this year's 2017 NAS Oceana Air Show on the October 22nd episode of "Kickin' It in the 757".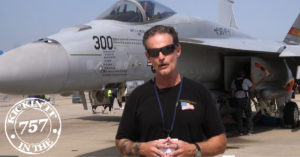 The show went behind the scenes with the F-18 demo team, spent time with the show director, met a "Gold Star" family as well as learning more about the Gold Star organization from local coordinator Melissa Black.
"Kickin' It in the 757" is a weekly dining, entertainment, and lifestyle magazine style television show that airs Sunday mornings @ 8:30am on local 'The CW' affiliate WGNT27. The show can be seen via Time Warner Cable, Verizon FiOS, Dish Network, COX Cable, Charter Cable, DirecTV, and Mediacom Cable with a reach of over 700,000 households. Their network also resides online via website www.KickinItinThe757.com and Facebook.