'Kickin' It in the 757′ Segment to air on WTKR's Coast Live
VIRGINIA BEACH, VA. 12.11.2017 – "The 5 Minute Chef"™ a segment of  the 'Kickin' It in the 757′ television show will now also air on local CBS affiliate WTKR's daytime show Coast Live. The segments feature local area chefs preparing entrees, many of which are actually on their own menus, in five minutes or less using items viewers can purchase themselves at area supermarkets.
"When we originally came up with the concept it was really out of need, as we were short of content for a complete show one week", said co-producer Kevin Neff. "I joked that we should do a cooking segment for people like me that are working all the time,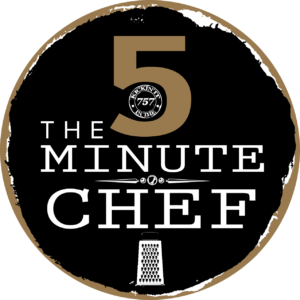 but still wanted a great meal but just didn't have the time to spend making it. As it ends up there were a lot of people out there that felt the same way. And because we are actually filming in the kitchen of the restaurant, it ends up being a great promotional tool for them as well". When Kevin and co-producer Mike Martine reached out to the program director of Coast Live, it was a natural fit as they were looking to compliment their show with a food or dining segment, but didn't have in-studio facilities to host themselves. Once they saw the production quality of the segments it was a no-brainer.
"The 5 Minute Chef"™ segments currently air every other Friday morning on Coast Live with plans eventually to air weekly. The segments also air 'Kickin' It in the 757′ as well as on their website along with the recipes.
Coast Live celebrates people and places, the sights and sounds, the food, fun and flair that is Hampton Roads coastal lifestyle. Living with the water, you know life is breezy with a unique energy and attitude all its own. Shows air weekdays at 10 a.m. on WTKR channel 3.
'Kickin' It in the 757' is a weekly dining, entertainment, and lifestyle magazine style television show that airs Sunday mornings @ 8:30am on local 'The CW' affiliate WGNT27. Their network also resides online via website www.kickinitinthe757.com and social media.
For additional information contact Kevin Makes Sense Media at  757.213.6955 or email info@kickinitinthe757.com
###